Sail With Us
Cindy and Jerry Rainwater, founder and owners of International Accents Travel, invite you to sail with them on Ama Waterways Enchanted Rhine departing Basel, Switzerland, August 26, 2021. This enchanting 7 night cruise visits Switzerland, France Germany and the Netherlands. We will disembark the cruise on Sep. 2, 2021 in the beautiful canal city of Amsterdam.
Grand cities blend in perfect harmony with their historic past and their progressive future. Inspirational towns have given way to great stories, poetry and music, like Heidelberg, where Mark Twain wrote A Tramp Abroad. Timeless traditions remain intact—from the making of Kölsch, Cologne's legendary brew, to the making of Rüdesheimer coffee. Take a front-row seat on an enchanting journey that takes you along the Rhine and through its designated UNESCO World Heritage Site with its 40 castles strung like pearls on its river banks and to magnificent cities and charming villages alike.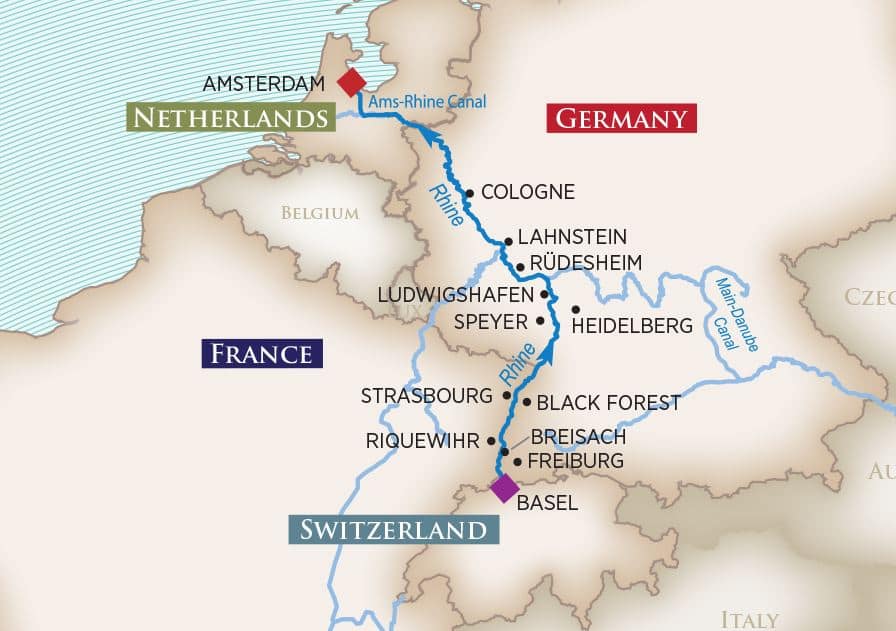 On this river cruise, you will enjoy an extensive lineup of included tours. In many cases, you will have a choice of excursions, such as standard tours, bike tours, hikes and Special Interest Tours. There is also a large variety of activities so that you can choose how you want to explore. No matter your preference, your days will be full of discovery and wonder.
Your cruise also includes breakfast, lunch and dinner with wine, beer and soft drinks included at lunch and dinner. There are snacks available all day and a 24 hour coffee and tea bar.
| | | | |
| --- | --- | --- | --- |
| DAY 2 | Breisach | Riquewihr excursion | OR Freiburg excursion |
| | | | |
| --- | --- | --- | --- |
| OR Black Forest excursion | OR Breisach wine country bike tour | | |
| | | | |
| --- | --- | --- | --- |
| DAY 3 | Strasbourg | "The Gem of Alsace" tour | OR Strasbourg bike tour |
| | | | |
| --- | --- | --- | --- |
| DAY 4 | Ludwigshafen | "Romantic Heidelberg" excursion | OR Heidelberg Philosopher's hike |
| | | | |
| --- | --- | --- | --- |
| OR "Secrets of Speyer" tour | OR Ladenburg bike tour | | |
| | | | |
| --- | --- | --- | --- |
| | Rüdesheim | Siegfried's Mechanical Music Museum | OR Rüdesheimer Coffee |
| | | | |
| --- | --- | --- | --- |
| DAY 5 | Rüdesheim | Gondola ride and wine tasting | OR Vineyard hike |
| | | | |
| --- | --- | --- | --- |
| OR Guided bike tour of the Rheingau | | | |
| | | | |
| --- | --- | --- | --- |
| | Rhine Gorge | Castles along the Rhine scenic cruising | |
| | | | |
| --- | --- | --- | --- |
| | Lahnstein | Lahneck Castle Visit | |
| | | | |
| --- | --- | --- | --- |
| DAY 6 | Cologne | "Holy City" walking tour and cathedral visit | OR Kölsch Beer tasting |
| | | | |
| --- | --- | --- | --- |
| DAY 7 | Amsterdam | Canal cruise tour | OR A Taste of Amsterdam* |
| | | | |
| --- | --- | --- | --- |
| DAY 8 | Amsterdam | DISEMBARKATION | |
Rates starting at only $3195 per person. Contact us for cabin categories and rates. Get more details @ AmaWaterways™